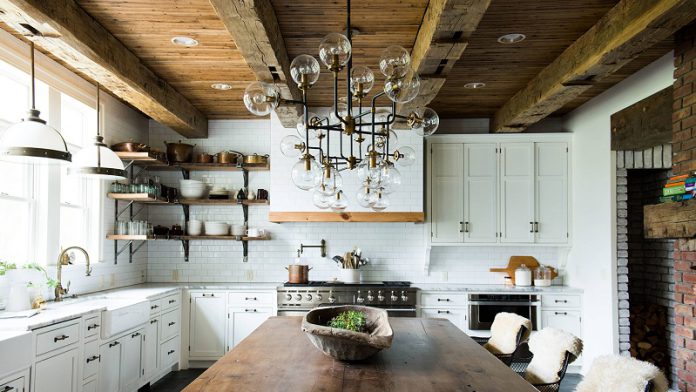 Exproperti.com – Adding boho details to your farmhouse decor can be a great way to add style to your kitchen. Pendant lighting, for example, is a great choice for the kitchen and can easily be switched out when needed. Contrary to popular belief, farmhouse kitchens do not have to be all white. Studio McGee, for example, painted her cabinets a dark color and used lighter elements to balance the saturated color.
Great Addition to Farmhouse Kitchen Decoration
A cute farmhouse kitchen metal sign is another great addition to your decor. Placed on the wall or on a shelf, this sign looks great accompanied by some flowers or greenery. You can even find a set of three farmhouse-style metal signs, including a pig, a cow, and a rooster.
Adding the right amount of lighting is essential to create the right ambiance. If you want to emphasize the kitchen's vintage character, you can install industrial-style pendant lights from a blackened steel factory. You can also place vintage-style stools at the island to add a touch of industrial style to the kitchen. In addition, a butcher-block island makes for an efficient prep surface. You can also use well-chosen wall treatments to give your farmhouse kitchen its unique look.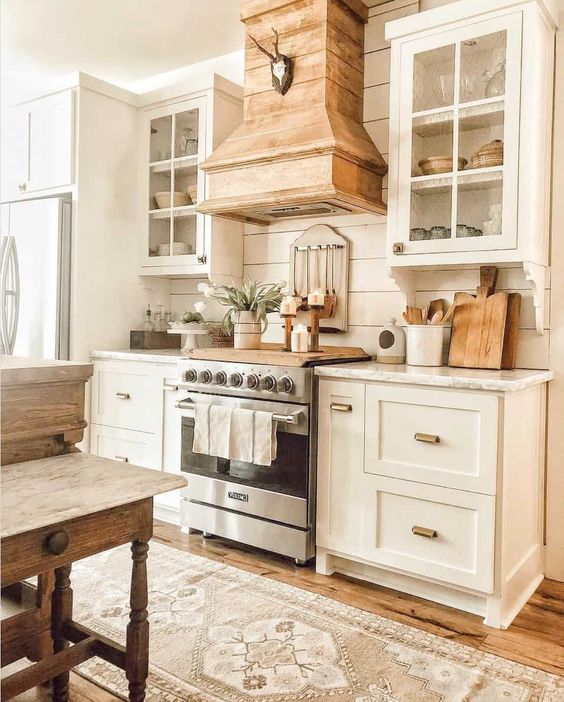 Exposed wood is another essential element for farmhouse kitchens. You can use wood floating shelves to add open shelving to your kitchen and have a wooden countertop at your kitchen island. This adds character to your kitchen while adding an open and spacious atmosphere. Table lamps are also an increasingly common feature in a farmhouse-style kitchen.
Consider Using Gorgeous Colorful Accessories
To add more color to your farmhouse kitchen, you can use colorful accents and accessories. A few colorful decorative items can give your white cabinets a snappy look. A vintage apron-front sink is another nice touch. And if you want to display your collection of Depression-era milk glass, consider open shelves. Dark wood floors and simple wooden knobs will balance the overall feel of the space.
If you want to add more farmhouse style, add a few vintage items. Old seed packets can add a unique accent to your kitchen. A leafy green garland will add even more farmhouse charm. You can also hang a seasonal wreath over the middle mirror to create a farmhouse-chic look. A vintage metal basket with seasonal flowers can also be a great decor piece. If you want to create a bold statement, you can opt for hanging pendant light over the island.
The farmhouse-style interior is generally black and white. Exposed beams are another element of farmhouse kitchen decor. White cabinetry and shelves will complement an exposed beams. A checkered curtain will also add to the look. Choosing an unusual kitchen island is another option. Open shelving also works well in farmhouse kitchens. You can also display vintage wooden pepper mills in your kitchen. Adding a rustic farmhouse-style sink with exposed wood beams can be an excellent way to add rustic charm to your kitchen.
Tips for Adding Character to a Farmhouse Kitchen
For your kitchen backsplash, use a white subway tile with black grout. This combination will give the room a fresh look. Brick or wood can also be used as a backsplash. In addition, you can use an upholstered bench for your dining nook and use patterned Venetian blinds. These two elements will make the room look cozier and more inviting. There are many ways to add character to your farmhouse kitchen.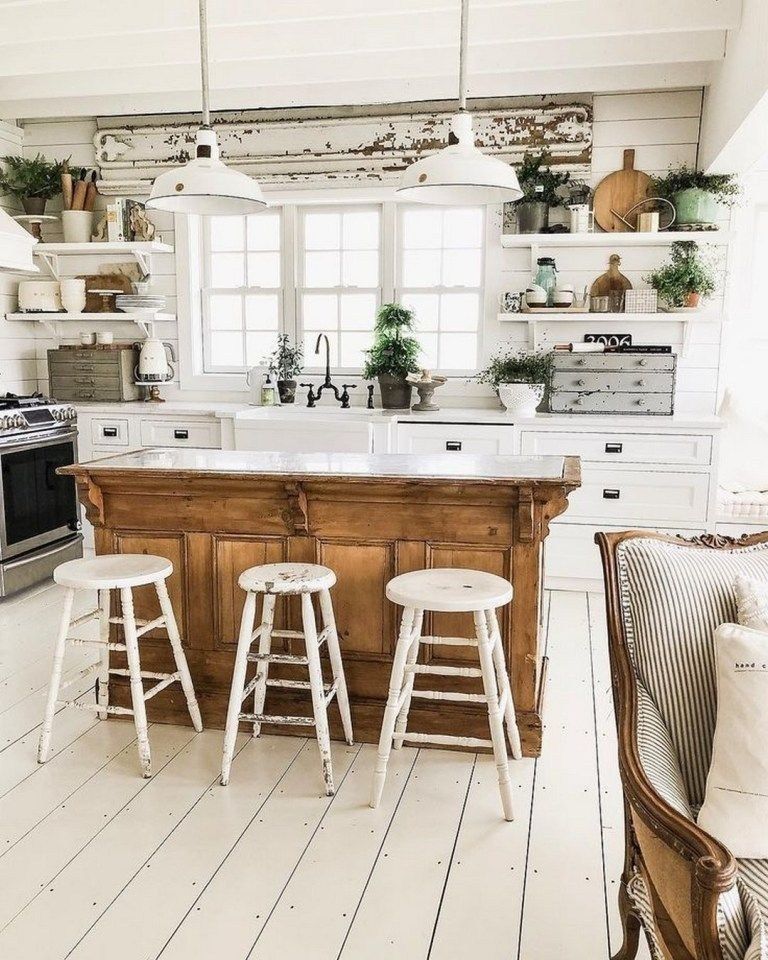 Choose a farmhouse-chic style that complements your style and home's existing design. You can achieve the farmhouse chic effect by mixing contemporary and traditional elements. For example, you can use white walls, rustic hardwood floors, and vintage pieces of furniture to create a farmhouse-chic look. You can also incorporate decorative elements, such as an oversized pendant, fresh flowers, or antique china. A combination of these elements will help you create a space that reflects your personality.