Exproperti.com – A coastal kitchen is a style that evokes the feel of being on the beach and combines a soothing, natural aesthetic with simple lines and calming textures.
Key Components of Every Coastal Kitchen
This style incorporates large windows and glass doors, bringing the outdoors in and making the space more open and airy. It also uses light colors and natural materials, such as reclaimed wood and wicker, to create a tranquil environment. Natural light is a key component of any coastal kitchen. It has many health benefits, such as boosting your mood and providing you with vitamin D.
The best way to incorporate natural light into your coastal kitchen is by using large windows and strategically placed lighting fixtures. These will help you get the most out of your space while also making it look more inviting. This is especially true if your kitchen is located on the north side of your house, where natural lighting may be limited. Bright white wall color is a great choice to reflect and amplify natural light.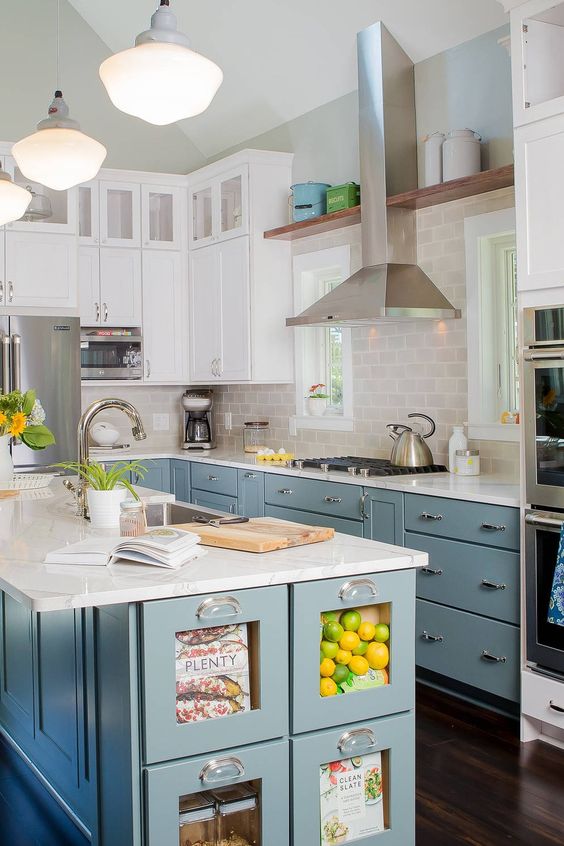 In addition to the most obvious lighting options, consider reflective surfaces like mirrors and glass cabinets. These will help you bounce the sun's rays around your kitchen, increasing the overall ambiance of the room and making it feel bigger. Tray ceilings are a great way to add some height and dimension to your coastal kitchen. They're also an inexpensive option for updating your look without a major overhaul.
The Easiest Way to Bring a Beach Atmosphere to the Kitchen
A tray ceiling – also known as a recessed or inverted ceiling – is defined by a drop-down center section that's several inches to several feet higher than the perimeter of the room. They're often used to separate the different areas of a large room and to add a little extra lighting. The depth of a tray ceiling depends on several factors, including the size of your room and its existing layout. A general rule of thumb is to get at least 8 inches of depth to have a noticeable effect.
To add some warmth and texture to your tray ceiling, consider adding a layer of shiplap. The natural wood will add some character to your space and can be paired with other designs, such as ornate trim pieces. White cabinets give off a light, airy feel, and are one of the easiest ways to bring a beach vibe into your kitchen. In addition, open shelving is a popular feature for a coastal kitchen and can be used to display blue or green ceramic kitchenware, large seashells, woven baskets, or other decorative items that can bring the feel of the coast into your space.
Choosing a Style for a Coastal Kitchen
The best part is that white cabinets are also timeless and will never go out of style. If you ever decide to change your style, a new paint job is an inexpensive way to update your kitchen! This modern coastal kitchen from blogger Will Taylor of Bright Bazaar is full of calming hues. A navy blue and soft cool gray palette, natural rope bar stools, pale European oak floors, and white shiplap walls all reinforce the homey coastal appeal of this simple yet stunning eat-in kitchen. When choosing a style for your coastal kitchen, think about what feels right for you and what works for your family. Keep it simple and relaxed with white linens, wood furniture, jute rugs, and natural-looking accents like rattan chairs or pendant lights.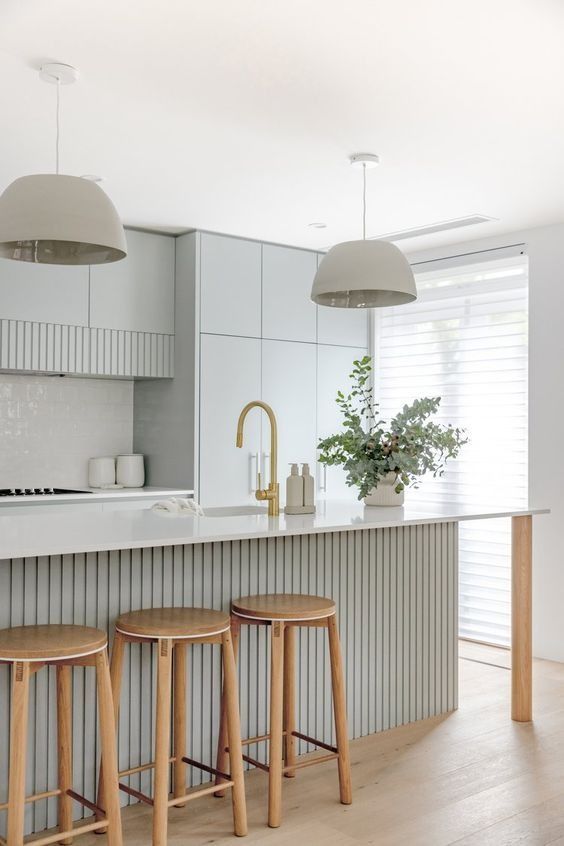 Using a neutral palette of whites, grays, and blues is a smart approach to coastal decor. Avoid navy or darker blues, which can make a space feel too nautical or kitschy. Instead, opt for a more subtle pastel blue that will still make the space look modern and fresh.